Title: CRO Advisor | Team: CRO | At Inflow Since: 2012

General Bio:
Back when the iPhone App Store was in its infancy, Tim Hampton saw a big opportunity to claim his spot in the tech world. During the creation of his app's website, he saw just how powerful SEO could be and decided to become a part of it. Since 2012, Hampton has been a part of Inflow, specializing in technical SEO, local SEO, mobile SEO, and now Conversion Optimization.
Hampton is known throughout the company for his problem-solving skills, especially those related to finding solutions for clients based on our Best In Class Matrix. Tim is also known around here as a:
Business Strategist and Marketing Professional with more than 11 years of optimization (Search & Conversion) experience.
Co-Creator of the Client Dashboards & Process on Trello our Clients use today.
Loves to optimize anything and everything. It's all about saving clicks and taps.
Hampton spends his time away from the office enjoying the outdoors with his family, cheering on the local sports teams, Skiing & Snowboarding, and building Lego masterpieces with his three boys.
What's the most fun thing you've bought with your Build Your Own Perks? – OR – What do you plan to buy with Build Your Own Perks?
Last year we used the Perks for Hamilton tickets. We also used them for ski lessons for my two older boys, Dom and Colin. This year I think I'll put it towards our house!
Do you have a favorite Inflow moment?
I have many favs, recently it was going with Mike, Forrest, and Ally to Chicago for IRCE. It was a ton of fun refining our approach on the fly and finding ways to quickly speak with potential new clients. Additionally getting some time to hangout out of the office was fun.
If you weren't doing this, what would you be doing?
Living on Vail Mountain, riding the freshies daily or waiting for the snow to fall!
Please share your favorite gif and explain why it's your favorite: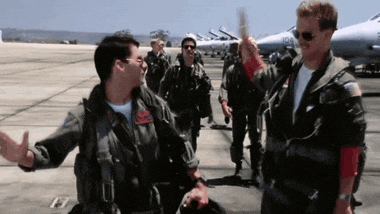 In the vein of the High Five! Whether it's a Kudos, Judos, high five or pat on the back, love my Inflow Peeps! Work hard, Play hard!