Title: Director of Conversion Services | Team: CRO | At Inflow Since: 2015

General Bio:
Nickname: Mikeen or Kuehn
With over ten years of digital marketing experience, Michael Kuehn combines analytics-based decision-making with a passion for user experience. Over the years, he has worked with well-known companies across e-tail: airlines, insurance, and finance verticals, consulting with clients that include Allstate, Delta, Metlife, Orkin, and Citi Bank. In addition to conversion rate optimization, Kuehn is experienced in both project and product management, having previously managed five software units for a leading loyalty website.
Born and raised in the New York area, Kuehn holds a Bachelor of Arts in political science from Rutgers University (GO KNIGHTS!). He loves to travel, having visited Turkey and Italy in the last 5 years. He has also lived in China on two separate occasions. Away from work, he enjoys playing soccer, skiing and winning all the board games (editors note: bold claim).
What's the most fun thing you've bought with your Build Your Own Perks? – OR – What do you plan to buy with Build Your Own Perks?
I've bought climbing shoes and a bathroom. I use both regularly.
Do you have a favorite Inflow moment?
Yes
If you weren't doing this, what would you be doing?
I would love to design board games. I have loosely been considering some mechanics for a game I hope to pull together at some point, but haven't really ever made a push for it.
Please share your favorite gif and explain why it's your favorite:
I don't really think this makes sense since they are really contextual, but since I have to answer,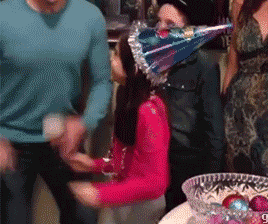 This one comes up pretty regularly and it makes me laugh every time. I love how intense this girl is, she clearly is having the most rockin' birthday ever. And I love going totally over the top for a laugh.