Hi, I'm Lindsay! (she/her/hers)
Title: Sr. SEO Strategist | Team: SEO | At Inflow Since: 2019

General Bio:
I grew up near Philly before heading off to the west coast for college. I studied English at UCLA and then moved to Raleigh, N.C., where I lived for a few years before moving to Denver. My career started in content editing, writing, and project management before I discovered marketing. I specialized in content marketing before moving toward technical SEO.
When I'm not SEO-ing it up, I spend the majority of my time reading and tending to the whims of my dog, Roscoe (who DOESN'T hate me, despite what it looks like in the picture).
What's the most fun thing you've bought with your Build Your Own Perks?
Hiking and backpacking gear. Or perhaps a new bike — the jury's still out.
What's the best part about working at Inflow?
The people! Not only are my coworkers incredibly knowledgeable (and more than happy to share their knowledge), they are also really fun to work with.
Do you have a favorite Inflow moment?
Any day a dog is in the office is a good day in my book.
If you weren't doing this, what would you be doing?
Running a coffee shop/bakery… or sleeping.
Please share your favorite gif and explain why it's your favorite: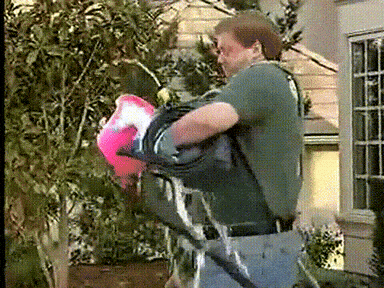 I have never looked at this gif and NOT laughed.