Hi, I'm Joel! (he/him/his)
Title: SEO Strategist | Team: Search Engine Optimization | At Inflow Since: 2020

General Bio:
I'm a Jersey native, although I've called Florida home for the past five years. I've been blessed to do work that I love most of my adult life, working in SEO and digital marketing for the past seven years. It's been great combining my engineering background with my creative brain to solve SEO problems.
When I'm not working, I'm usually signing up for a local 5k, 10k, or CrossFit competition. To recover, I'll grab an iced coffee and just walk along the Florida beaches and park trails. When I can, I'll catch a Rays game or watch my NY Giants on TV (go big blue!).
What do you plan to buy with Build Your Own Perks?
I'll probably buy a plane ticket for my mom to visit me in Florida.
What's the best part about working at Inflow?
The best part of working at Inflow is working with my teammates. They make the atmosphere fun and are always pushing me to be better. We all get along and can joke with each other, while working at a high level and improving our skills. The people make it the best place to work.
Do you have a favorite Inflow moment?
My favorite Inflow moment so far was spending time getting to know my team after my first week at our after-work happy hour.
If you weren't doing this, what would you be doing?
I basically do what I want to do now in digital marketing and SEO; the work is fun for me. But, if I could do something where I couldn't fail, it would probably be a YouTube channel or own a gym.
Please share your favorite gif and explain why it's your favorite: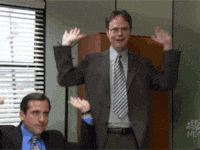 I'm a big fan of "The Office," and these guys are my favorite.