Title: Office Manager | Team: Admin & Leadership | At Inflow Since: 2014

What's the most fun thing you've bought with your Build Your Own Perks? – OR – What do you plan to buy with Build Your Own Perks?
I've done so many things from concerts to vacation but my absolute favorite has been taking music classes to learn the ukulele!
Do you have a favorite Inflow moment?
Ah, so many of these….I really love throwing Inflow events. My favorite part is seeing everyone come together to have fun and enjoy each other's company! One standout party was when there was a solar eclipse. I threw a Solar Eclipse/Space office party! We ordered everyone viewing glasses, decorated the conference room, had lots of yummy treats and space themed treats with prizes for the best one, of course!
If you weren't doing this, what would you be doing?
I would be finding ways to bring people together.
Please share your favorite gif and explain why it's your favorite:
I have two: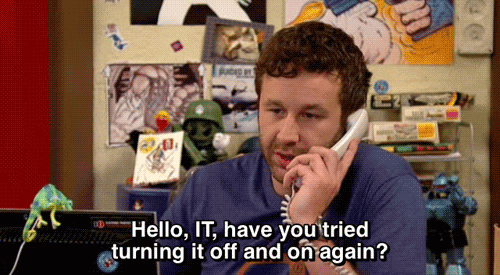 I am also tech support sometimes. This is truly my first response anytime I'm asked a question about something that's not working and my help is needed


My response when I have no clue how to solve something but I dive in because I love solving problems.